Things to bring include: casual clothing, soft soled shoes for safer footing aboard, warm jacket, sun glasses, raingear is good insurance for inclement weather, a large cooler or two, food and beverage if desired.
Deluxe Charter Rates
Half Day

- 6 hours
..........
$650.00

Half Day

- 5 hours
..........
$550.00

Weekday Special


8 hour, non-stop
..........
$800.00
Important Notes...
You will be fishing with the finest tackle, lures and accessories available
Bring a large cooler or two for your trip home. We professionally fillet and package your catch at no extra charge
References will be furnished upon request
All Prices subject to 5.6% sales tax
A 40% deposit is required to confirm your charter and will be refunded if poor weather conditions make our fishing trip impractical.
Deluxe Fishing Packages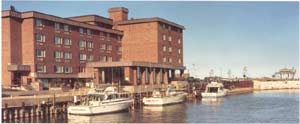 One call takes care of it all! you will know the exact cost of your vacation before you leave your house; no hidden costs. This is the way to go. All packages are complete with Continental breakfast, licenses, extra charge per person per night at Holiday Inn, a honest effort from your experienced Captain and Mate and proper care and icing of your catch at no cost.
$169 Deluxe Package Each (6 persons)

One nights lodging (2 rooms)
Continental breakfast aboard
One eight hour charter aboard one of our deluxe boats
A deposit of $300.00 is required
The cost for four persons is $249.00 each
The cost for five persons is $199.00 each
$229 Captain's Special Each (6 persons)

One nights lodging (2 rooms)
All licenses and trout stamps
Continental breakfast aboard
Two five hour charters (usually and afternoon charter followed by a morning charter)
A deposit of $300.00 is required
The cost for four persons is $329.00 each
The cost for five persons is $269.00 each
$259 Deluxe Package Each (6 persons)

Two full six hour charters (usually an afternoon charter followed by a morning charter)
One nights lodging (2 rooms)
All licenses and trout stamps
Continental breakfast aboard
A deposit of $350.00 is required
The cost for four persons is $359.00 each
The cost for five persons is $289.00 each
$279 Coho/Steelhead Package Each (6 persons)

One nights lodging (2 rooms)
All licenses and trout stamps
Continental breakfast aboard
One six hour and one eight hour charter (usually an afternoon followed by a morning charter)
A deposit of $350.00 is required
The cost for four persons is $399.00 each
The cost for five persons is $329.00 each
$339 Steelhead Special Each (6 persons)

All licenses and trout stamps
Continental breakfast aboard
Smoked salmon aboard
Two nights lodging (2 rooms)
Two full eight hour charters
A deposit of $400.00 is required
The cost for four persons is $499.00 each
The cost for five persons is $409.00 each
$379 Deluxe Package Each (6 persons)

All licenses and trout stamps
Continental breakfast aboard
Three six hour charters aboard one of our deluxe sport fishing boats
Smoked salmon aboard
Two nights lodging (2 rooms)
A deposit of $400.00 is required
The cost for four persons is $539.00 each
The cost for five persons is $449.00 each
$519 Deluxe Package Each (6 persons)

All licenses and trout stamps
Continental breakfast aboard
Four six hour charters aboard one of our deluxe sport fishing charters
Three nights lodging (2 rooms)
A deposit of $600.00 is required
The cost for four persons is $739.00 each
The cost for five persons is $609.00 each
NOTE: All prices subject to 5.6% Wisconsin/County sales tax